Keep it light and nutritious with this tasty salad.
Ingredients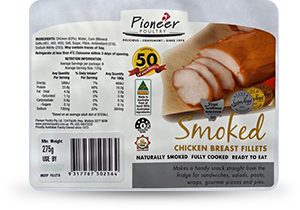 1 pack Pioneer Poultry Smoked Chicken Breast Fillets (300 grams)
2 cups low-fat mayonnaise
1 cup crumbled blue cheese
1 cup plain unsweetened yogurt
2/3 cup fresh milk
1/4 cup minced garlic
1 teaspoon Worcestershire sauce
2/3 cup or at least 160 grams of mixed greens
2/3 cup or at least 160 grams of shredded red cabbage leaves
140 grams of celery stalks, cut into bite-size pieces
4 Tablespoons blue cheese cubes
1/3 cup unsalted walnuts, roughly cut (optional)
Cayenne pepper powder or hot sauce, to taste
Salt and pepper, to taste
A spritz of lemon juice (optional)
Utensils Needed
Colander (for washing vegetables)
Chopping board
Kitchen knife
Meat brush
Measuring cups and spoons
1 mixing bowl
1 large salad bowl
1 little serving bowl (for salad dressing)

PRO TIPS:
What are the best tools to use when tossing dressing into a salad, without over-bruising the greens? Either two large spoons or your clean/gloved hands.
Got other favourite salad ingredients? Want to replace a few? Go ahead, add those to this recipe and make it your own!
COOKING STEPS
Wash and cut the salad greens, cabbage and celery.
Prepare and measure out all the other ingredients.
Open the pack of Pioneer Poultry Smoked Chicken Breast Fillets. Before cutting, brush the fillets with a little cayenne pepper powder or hot sauce (to taste).
Cut the chicken fillets into smaller bite-size pieces.
Create the dressing. In a mixing bowl, combine the mayonnaise, crumbled blue cheese, yogurt, milk, garlic, and Worcestershire sauce. Mix until well-blended. Set aside.
In a salad bowl, combine the cabbage, mixed greens and celery stalks. Toss in the blue cheese cubes. (Toss in the walnuts as well, if you're using them.)
Gently toss or fold the salad green mix with about 1 cup of the salad dressing. Salt and pepper to taste. (Add a spritz of lemon juice, if desired.)
Serve the salad with the remaining salad dressing in a separate bowl on the side for anyone who wants more of it.