A frittata is a great way to reuse leftovers. Elevate it to gourmet level by adding Pioneer Poultry's Smoked Chicken!
Ingredients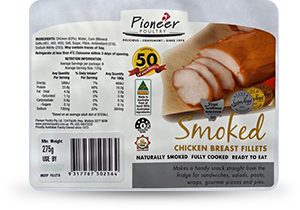 Pioneer Poultry Smoked Chicken Breast Fillets (about 150-200 grams)
2 Tablespoons olive oil
2 medium-sized leeks (or 1 large leek), washed and chopped
4 large eggs
1/3 cup unsweetened plain yogurt or low-fat sour cream
1 Tablespoon fresh Italian flat-leaf parsley, washed and chopped
1/3 cup shredded firm cheese (Cheddar, Gruyere, etc.)
1/4 teaspoon dried oregano
1/4 teaspoon dried thyme
1/4 cup small strips of leftover bacon, sausages, or plain meat (optional)
Salt and pepper to taste (optional)
Utensils Needed
Colander (for washing vegetables)
Measuring cups and spoons
Chopping board
Kitchen knife
Skillet
Mixing bowl
Whisk
Spatula or mixing spoon

PRO TIPS:
To save time, you can make this frittata on a weekend and serve it later. Store in foil in your refrigerator and reheat when needed.
To reheat, pop it in an oven heated to 170 Celsius for 10 to 15 minutes. (Do not overheat.) Or wrap it in a kitchen paper towel, set it on a microwavable plate or container and microwave it on medium-high for a little over 1 minute.
COOKING STEPS
Preheat your oven to around 170 to 175 Celsius (or 350 F).
Prepare and measure out all the ingredients as indicated.
Lightly grease the insides of a 23-centimetre (or 9-inch) baking pan with 1/2 tablespoon of olive oil. Set aside.
Open a pack of Pioneer Poultry Smoked Chicken Breast Fillets and take out about 150-200 grams (roughly half the contents). Slice that into bite-size pieces.
In a large skillet set over medium heat, pour in the remaining olive oil. Add the leeks and sauté these until slightly soft. Remove from heat and let cool.
Crack the eggs into a mixing bowl. Beat until these are blended and slightly frothy.
Gently fold in the yogurt or sour cream, chicken pieces, cooked leeks, parsley, shredded cheese, any leftover bacon/sausages/meat (optional), oregano and thyme.
Pour the egg mixture into the prepared baking pan.
Bake in the oven for 20 to 25 minutes or until the mixture sets or turns solid. (Be careful not to burn or overcook.)
Serve while still warm. To serve, cut the frittata into squares or rectangles. Salt and pepper to taste (optional).