Whip up a delicious Malaysian-style chicken dish in minutes with Pioneer Poultry! The smoked drumsticks make this version interesting.
Ingredients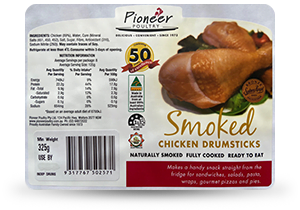 2 packs of Pioneer Poultry Smoked Chicken Drumsticks (350 grams each)
3-4 Tablespoons of smooth peanut butter (sweetened or unsweetened)
1 Tablespoon soy sauce
1 Tablespoon yellow curry powder
1 Tablespoon sesame oil
1 garlic clove, peeled and minced
1 teaspoon fresh ginger, washed and roughly chopped
1 teaspoon of plain honey (or to taste)
165 ml of coconut milk
The juice of half a lime
Salt and pepper to taste
A few sprigs of fresh cilantro, washed and chopped (optional)
Utensils Needed
Measuring cups and spoons
Colander (for washing vegetables)
Chopping board
Kitchen knife
Mixing bowl
Mixing spoon or spatula
Saucepan

PRO TIPS:
If the satay sauce becomes too thick as you cook, add in a splash of water or chicken broth.
For extra flavour, try brushing some of the sauce onto the drumsticks and heating them briefly in your microwave oven.
If you want a more traditional-tasting Malaysian Satay chicken, try our Poulet Oven-Roasted Satay Breast Fillet.
COOKING STEPS
Prepare and measure the ingredients.
In a bowl, mix the peanut butter, curry powder, soy sauce, honey and lime juice until well combined. Set aside.
In a saucepan over low heat, sauté the garlic and ginger in the sesame oil for half a minute or until aromatic.
Pour the coconut milk into the saucepan. Add the peanut butter mixture as well.
Heat the whole mixture gently for about 5 minutes, stirring constantly until the coconut milk is warmed up and the satay sauce comes together. Salt and pepper to taste.
Open the packs of Pioneer Poultry Smoked Chicken Drumsticks. If the chicken is cold, warm them in your microwave or oven as you wish. (Do not overheat or overcook.)
Serve the chicken with the satay dipping sauce on the side and some steamed rice. (Top with the cilantro, if desired.)