Enjoy the classic French combination of lemon and fresh tarragon in this quick chicken dish.
Ingredients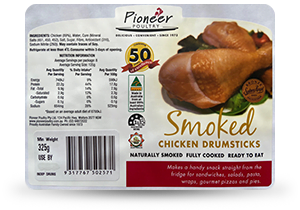 1 pack Pioneer Poultry Smoked Chicken Drumsticks (350 grams)
1/2 cup sour cream or yogurt
2 Tablespoons Dijon mustard
2 Tablespoons lemon juice
1/4 teaspoon garlic powder (or 1 fresh garlic clove, minced)
2 tablespoons fresh tarragon leaves, finely chopped
Salt and pepper to taste
Utensils Needed
Colander (for washing vegetables)
Chopping board
Kitchen knife
Mixing bowl
Mixing spoon or spatula

PRO TIPS:
The lemon-tarragon sauce tastes better if it's refrigerated overnight before using.
If you wish, you can fillet the drumsticks and use the bones to make a rich chicken soup stock for a different dish.
COOKING STEPS
Wash and chop the tarragon. Prepare and measure the other ingredients.
In a mixing bowl, combine the sour cream/yogurt, Dijon mustard, lemon juice, and garlic powder/minced garlic until well-blended. Salt and pepper the sauce to taste.
Open the pack of Pioneer Poultry Smoked Chicken Drumsticks. If the chicken meat is cold, heat it briefly in your microwave or oven to your desired temperature.
Serve the chicken with the lemon-tarragon sauce and your favourite toasted bread on the side.