Have some leftover white rice on hand? Make this hearty one-bowl meal in minutes!
Ingredients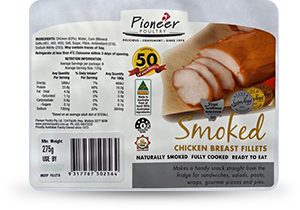 2 packs Pioneer Poultry Smoked Chicken Breast Fillets (300 grams each)
4 loosely-packed cups of cooked (leftover) white rice
2/3 cup bottled Italian pesto sauce (i.e., Genovese)
1 1/2 Tablespoons balsamic vinegar
1 teaspoon oregano powder
Salt and pepper to taste
Utensils Needed
Chopping board
Kitchen knife
Mixing bowl
Mixing spoon
Measuring cups and spoons
Individual serving bowls

PRO TIPS:
If the rice and chicken are cold, mix a few tablespoons of hot water or broth into the rice. Fold in the chicken breast pieces. Then microwave the mixture on high in a covered container for about a minute and 30 seconds.
Garnish this meal with veggies or your favourite greens for extra flavour and nutrition.
COOKING STEPS
In a mixing bowl, combine the rice, pesto, balsamic vinegar and oregano powder.
Open the packs of Pioneer Poultry Smoked Chicken Breast Fillets and cut them up into smaller bite-size pieces. Fold them gently into the rice.
Salt and pepper to taste. Ladle into individual bowls and serve immediately.