French open-face sandwiches (tartines) are fast, delicious and nutritious. Perfect for busy families!
Ingredients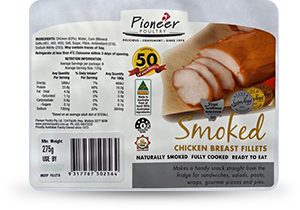 1 pack Pioneer Poultry Smoked Chicken Breast Fillets (300 grams)
8 thick slices of country bread
2-3 garlic cloves
4 Tablespoons extra-virgin olive oil
1/2 cup cream cheese or cottage cheese
3 Tablespoons balsamic vinegar
1 cup baby arugula or other baby greens
Bottled mustard of your choice (Dijon, Grey-Poupon, whole-grain, etc.), to taste
Freshly ground black pepper, to taste
Salt, to taste
Slices of fresh white onion or red shallots, to taste (optional)
Sliced fresh tomatoes, to taste (optional)
Sliced bottled green olives, to taste (optional)
Utensils Needed
Toaster / toaster oven
Colander (for washing vegetables)
Chopping board
Kitchen knife
Butter knife or spoon
Measuring cups and spoons

PRO TIP:
Shorten prep time by turning this into a mini-buffet. Stop at step 4 and let your family assemble their own tartines.
COOKING STEPS
Toast the bread slices. While the bread is toasting, bring out and prepare the other ingredients.
Peel and cut the garlic cloves in half. Wash the arugula or baby greens. Slice any onion or tomatoes you may need.
When the bread is toasted, rub one side of each slice generously with one or two of the cut garlic cloves to coat them with flavour.
Spread the cream cheese or cottage cheese evenly across all the bread slices.
For each bread slice, add arugula or baby greens on top of the cheese layer. Lay in any slices of onion, shallots, tomatoes, and olives you may want as well.
Drizzle some of the extra-virgin olive oil and balsamic vinegar on top of the greens and vegetables. Salt and pepper to taste.
Lay Smoked Pioneer Poultry Chicken Breast Fillets on top.
Put some mustard on top, to taste. You may add a few more greens or vegetables as a garnish if you wish. Then drizzle the rest of the olive oil and balsamic vinegar on top. Salt and pepper to taste.