A family favourite. Perfect for a weeknight or watching the footy on the weekend!
Ingredients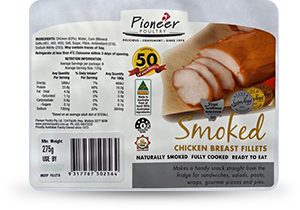 A handful or two of flour (for dusting)
2 pizza dough bases (flattened and ready to use)
2 sachets of pizza sauce
150 grams Mozzarella cheese, cut into cubes or slivers
275-300 grams Pioneer Poultry Smoked Chicken Breast Fillets
1 red capsicum (bell pepper), sliced
150 grams cherry tomatoes, halved
A small handful of fresh basil leaves
A handful of fresh rocket leaves (arugula)
Utensils Needed
Chopping board
Kitchen knife
Sauce ladle or spoon
2 pizza baking trays
Pizza cutter

PRO TIPS:
Save yourself time by using store-bought pizza dough bases and ready-made pizza sauces.
Baking pizza in a tray while on top of a pizza stone tends to overbake it, especially if it's a thin crust. To avoid this, don't use them together. Either you bake with a tray or bake with a stone.
If you're using a pizza stone, preheat it along with the oven. Make sure you also use a pizza paddle. Dust the paddle with some flour before laying the dough base and assembling the pizza on it. Slide the pizza off the paddle and onto the pizza stone in the oven to bake. When done, use the paddle to pick the pizza up and out of the oven.
Haven't got any rocket? Try some mango chutney instead for a different flavour profile.
COOKING STEPS
Preheat oven to 250 C.
Cut thin slices of the Pioneer Poultry Smoked Chicken Breast Fillets. Prepare the rest of the ingredients.
Dust the pizza trays with some flour, then lay in the pizza dough bases.
Open the pizza sauce sachets. Pour the sauce onto each pizza. Use a ladle or spoon to spread the sauce evenly.
Lay an equal amount of the chicken slices, capsicum slices and tomatoes on each pizza.
Tear the basil leaves into slightly smaller pieces and distribute them evenly across the two pizzas.
Sprinkle each pizza with equal amounts of the Mozzarella cheese cubes or slivers.
Bake the pizzas in the oven for 10-12 minutes or until the dough is cooked (slightly crisp) and the Mozzarella has melted.
Take the pizzas out. Top each one with rocket leaves. Cut into slices and serve.