This risotto is quick and super easy to make. Perfect for a mid-week dinner with the family.
Ingredients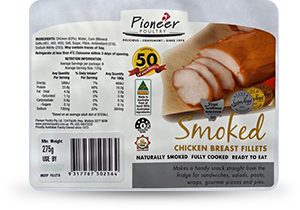 1/2 tablespoon olive oil
1/2 tablespoon unsalted butter
1/2 cup brown or white onion, diced
2 cups Arborio Rice
2 tablespoons of white wine
4 1/2 to 5 cups of chicken stock
275-300 grams Pioneer Poultry Smoked Chicken Breast Fillets
1 cup frozen pre-cooked peas, thawed and drained
1/2 cup Parmesan cheese, grated
The zest of one lemon
Salt and pepper, to taste
Utensils Needed
Large oven-proof saucepan (with lid)

Soup pot (with lid)

Kitchen knife
Chopping board
Grater
Mixing spoon
Measuring cups and spoons
Individual serving plates or bowls

PRO TIPS:
For best results, always use rice that's appropriate for making risotto (e.g., Arborio, Vialone Nano or Carnaroli).
Do NOT rinse the rice before cooking. Otherwise, you lose the starch needed to make your risotto "creamy."
No oven-proof saucepan? Just transfer the risotto to a regular baking casserole dish and put that in the oven.
Add chopped parsley to garnish. You can also substitute peas with chopped spinach, asparagus or leeks.
COOKING STEPS
Preheat your oven to 160 C (or 150 C if there's a forced fan).
Pour chicken stock into the soup pot. Cover and bring to a boil over high heat.
While heating the stock, cut the Pioneer Poultry Smoked Chicken Breast Fillet into thick bite-sized pieces. Prepare and measure the rest of the ingredients.
Heat olive oil and butter in the saucepan over medium heat. Add onion and cook until softened.
Add rice to the onion. Cook a further 2 minutes whilst stirring slowly and continuously.
Pour 4 1/2 cups of hot chicken stock and 2 tablespoons of white wine into the rice. Bring to a boil.
Once it boils, cover the saucepan and bake in the oven for 16 minutes. (Do not disturb.)
Turn off the oven and remove the dish. Uncover and give the risotto a stir. It should be "creamy" and slightly wet. (Add a little more hot chicken broth if it's too dry.)
While the rice is still hot, mix in the chicken, peas and Parmesan cheese. Cover again and let stand for 2 minutes.
Add the lemon zest and gently fold in. Salt and pepper to taste, if needed. It's ready to serve!